Extradition in Thailand is defined generally as a legal process where one nation or State, surrenders a suspected criminal or a convict to the requesting State. In Thailand, the Extradition Act 2472 governs the extradition process from 1929, until it was repealed on August 10, 2008 because if the enactment of Extradition Act 2551.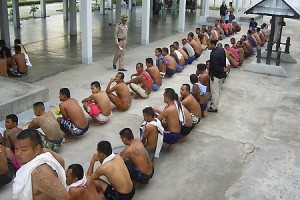 Toward its goals of international cooperation and mutual legal assistance, Thailand concluded extradition treaties to several states such as Australia, Bangladesh, Belgium, Cambodia, Canada, China, Fiji, Indonesia, Laos, Malaysia, Philippines, South Korea, United Kingdom and United States. The treaty was based on reciprocity for trust and commitment between the two contracting States.
Nevertheless, a country which does not have an extradition treaty with Thailand is not necessarily banned from requesting in the latter extradition process. The reason for this is that, Thailand adheres to the principle of "double criminality". Hence, Thailand may surrender a person accused or convicted of a crime to a foreign State which does not have extradition treaty with Thailand, provided that the crime complained of is committed within the jurisdiction of the requesting State and that the same is considered as a crime in Thailand and punishable therein.
Under the old Extradition Act of 1929, Thailand adheres to "minimum penalty rule" and "list of offenses principle" when it comes to determining whether the offense is covered by the Extradition Act. Minimum penalty rule states that the crime committed in order to be considered as an extraditable offense must be punishable by imprisonment for more than one year. The list of offenses approach on the other hand is based on the treaty concluded by another State and Thailand. Under the Extradition Act of 2008, extraditable offenses include those crimes which are punishable by death, by imprisonment, deprivation of liberty, and other form of detention for a period not less than on (1) year. It includes an offense which is both punishable in Thailand and the requesting State.
Nevertheless, extradition in Thailand may be refused to if the request for extradition is contrary to the laws of Thailand. It can also be refused on the ground that the offense committed by the intended extradite is strictly political or military in nature. It shall also be rejected if the person to be extradited is found innocent of the crime charged, or is already punished for his offense or is ineligible to stand trial for the offense charged. Also, extradition will not be granted if the person to be extradited has only a less than six months remaining period to serve his penalty.
For countries that concluded extradition treaty with Thailand, requests for extradition shall be submitted to the Attorney General. For countries that do not have an extradition treaty with Thailand, request shall be made through the normal diplomatic channel.
Extradition Laws on an international scale serve as an instrument to prevent the practice of fugitives from escaping the realm of justice. Extradition Laws recognizes the principle that justice must be served.