The Chanote deed, or NS-4, shows full ownership rights to a piece of land.  Chanote deeds are the most dependable title in the Thai titling system.  A red garuda, or khrut, appears on a Chanote deed.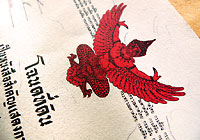 The Chanote deed lists the position of the land, total area, the title number, and the survey information.  A sketch of the property on the title shows the land parcel's relation to neighboring parcels.  The original copies of Chanote deeds are kept at the Provincial Land Department.
All land parcels represented by Chanote deeds have been fully surveyed by the Land Department.  Concrete or metal survey markers are used to mark the corners of the real property.  The Land Department correlates the survey of the parcel to the national survey grid and satellite photographs.
Under Thai law, squatters who live on another person's land without permission can eventually claim ownership of the parcel if the land's rightful owner of does not evict them.  A Chanote title deed gives land owners 10 years evict squatters from their land before they lose their ownership. See more land title deeds here.